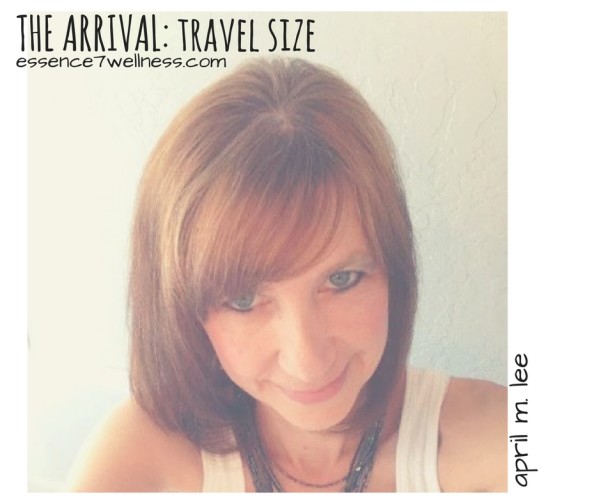 i am committed to chasing, catching,
and completing my dreams.
i am committed to opening other women's eyes
to their own unique imaginings.
i am committed to THE ARRIVAL revolution.
i want THE ARRIVAL message to speak to
as many women as possible.
i want women to journey far beyond
their preconceived limits.
i want women to take risks worth taking,
magically reuniting with their true essence.
2017 introduced my new travel size offerings.
THE ARRIVAL's seven essential elements,
taken one at a time,
in step-by-step increments.
1. AWARENESS
2. MOVEMENT
3. NOURISHMENT
4. VOICE
5. ZEST
6. GRIT 
7. UNTETHERED INTEGRATION
it began with AWARENESS #1.
the awareness assignment: mindful steps.
curiosity. observation. possibility. patterns.
and continued with MOVEMENT #2.
the momentum of movement: in the right direction.
energy. challenge. acceleration. action.
such beauty and strength has reigned
in this newly-created women's project.


the next essential element to be explored:
NOURISHMENT #3
the dates:
september 11-15, 2017
the commitment:
$57 $27.
honesty. humor. courage. and a spark.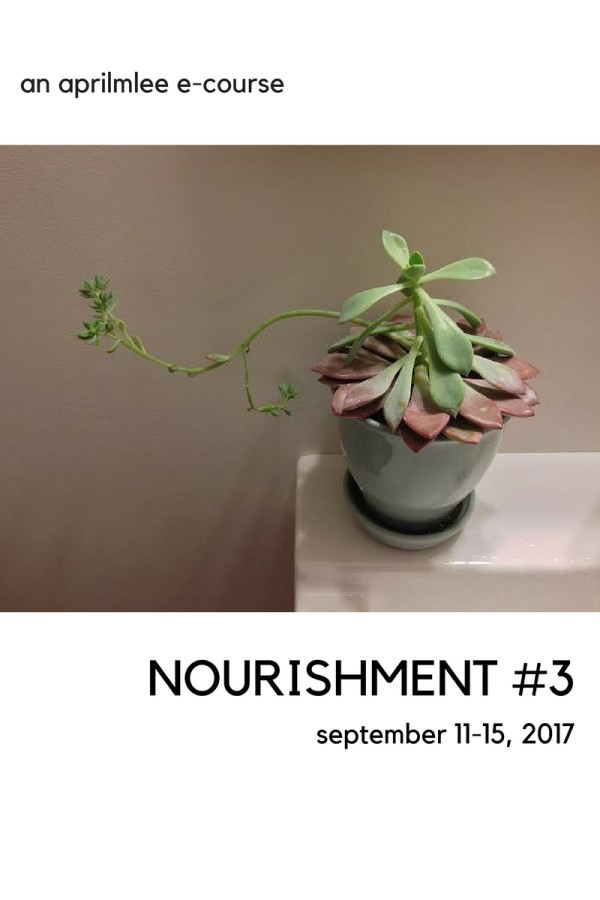 and so, here we are, at NOURISHMENT #3.
the nourishment ingredient: body-and-soul enlightenment.
appetite. creativity. purpose. pursuit.
this travel size course is presented via email.
one new lesson and activity each day,
monday through thursday.
friday serves as a wrap-it-all-up layover day,
a chance to process the week's experience.
and there will be a private facebook group as well.
a drop-in spot to share and discuss the material.
during previous courses, this place was brimming over.
with insight and inspiration,
with support and encouragement,
with women excited to rediscover their essence,
with love.
i will also be available each day
to answer your questions and concerns,
to share ideas and suggestions,
and to offer both challenge and guidance.
you will be very well cared for.
i'm a hands-on responsive coach
who becomes invested in your story.
(and don't worry if you haven't taken the first two courses.
each class stands beautifully and independently on its own.
just like you!)
is it time to ignite your own revolutionary path,
as you choose, clarify, chase, and catch
your most precious and long-held dreams?


be brave, venture out.
for only $57 $27.
retreat no more.
choose to arrive.
what women are saying about my travel size courses . . .
*******

"Today I started an online course called THE ARRIVAL:travel size, with the focus on Awareness. There are amazing women who are a part of this course. Some of these women I have grown up with, and others are women I have never met from all over the world! It is wonderful to hear their stories, and see how this course is helping them tell their story. I have always had an appreciation for my friend April, but after observing what it takes to administer a course like this, I am in awe of her ability to keep things going, comment on posts, and develop relationships with the 70 plus women who are a part of this course. Plus, in the midst of it all, refurbish her new Italian Villa with her husband. I am in awe."
~Carol Roberts

*******

"Ouch, this lesson just hit home. Reading this along with myriad other posts just collided in my brain. I have always thought of myself as tolerant–prided myself on it, in fact–but in this increasingly political and divided country, I am suddenly aware of how INTOLERANT I have become, have victimized myself into believing. "Oh, you voted for X? Then I no longer want to have anything to do with you, you ignorant fool" kind of thinking. And that's just not the normal me. So I am going to–with awareness–repair those broken friendships if I can. (Anyone who reads my posts knows where I stand, but I believe this goes both ways–so I'll do what I can, knowing that I'm only half of the equation.) Thank you, April, for this bit of painful insight."
~Ann Beardsley

*******

"This is an amazing experience. As I read the posts I think about how wonderful women are. We all seem to go through things that are wonderful and things that are hard. No matter our age or place in life we all want to improve and live richer more fulfilled lives. This is so eye opening. Thank you for this opportunity."
~Jamee Hill Sperry

*******

"To all the ladies who responded to my post earlier today. I was so afraid people were going to judge me, but when I read through all the comments tonight I was moved to tears with how much I was enveloped in love and support. Thank you SO much! I received so many wonderful suggestions and I am going to try them all. I feel so incredibly privileged and blessed to be a part of such an incredible and beautiful group of ladies. Thank you for your support and love when most of you don't even know me. I truly look forward to getting to know all of you. Thank you again ❤️❤️❤️"
~Kara

*******

"I love what April has done here in bringing all us women together in our own space of possibility, helping us connect and support one another in the journey. I've so enjoyed all your thoughts and stories."
~BethAnne Kapansky Wright

*******

"I took this amazing course last year called THE ARRIVAL – by April M. Lee. Many of you know and follow her Facebook page for her inspirational and entertaining posts PLUS her move to an Italian villa in Italy. SHE IS ALSO an amazing, highly skilled life coach and is offering "travel size" versions of the course (5 days on each element) . . . I've taken a lot of coaching courses and I will say that this one was created in a very unique and effective way – quite impressive. Enjoy!"
~Mary Khoury

*******

"April's mini-course Awareness is confirmation of what we all know deep in our hearts: that WE matter, that WE have worth. Sometimes, we forget that. We put others' needs before our own. We have to reawaken that six-year-old inside us who knows she can do anything she sets her mind to, without crossing the line into selfishness where we place ourselves above others. April's course reflects the classic concern that men have studied since the time of the ancient Greeks: Know thyself. Sometimes it feels that the only thing we do solely for ourselves is eat; everything else is geared toward fulfilling someone else's wants, desires, and requirements. This is our chance to do something for ourselves, in small or large amounts odf time, as needed. It is wholely worthwhile."
~Ann Beardsley

*******

"April M Lee I'm so pleased and grateful I signed up for your mini course. It has been the catalyst I needed. Being poorly can undermine, deflate and exhaust me but I'm back on track with a healthier mindset. ☺"
~Maria Murfitt

*******

"April has the rare gift of being able, without judgement, to lead others to self discovery. In the course I took, she provided a safe, nurturing online space where she shared structured, yet flexible steps to "awareness." Thanks April, you rock!"
~Laurie Early

*******

"Thank you so much Sweet April M Lee and those in this group! I got a lot out of the journey and know I still will. I really enjoyed reading so many posts and such a lovely group of women…no surprise as April attracts loving spirits."
~Jul's Arthur

*******

"It has not been easy to "allow" myself to become more aware. I welcome the thoughts that previously made me nervous and sometimes terrified. When I start to feel myself spiral, I find so much comfort in using the STOP method to address the discomfort head on. Thank you so much for this technique, this course has been life changing. ❤"
~Rebekah Khoury

*******

"I just finished April M. Lee's first travel size course, AWARENESS, and learned a lot about myself, had wonderful interactions with old and new friends, and loved the community of women that was formed through this experience. Each of her essential elements will be offered in the months to come, and I encourage you to check them out and sign up. The take aways from the courses are definitely worth being a part of this experience."
~Carol Roberts

*******

"If you are searching for a way to enrich your life journey, and are struggling with getting out of your own way, join April in her next travel-size course. Her courses are specifically designed to fit into hectic lifestyles. They truly are life-changing! ❤"
~Kellee Mills

*******
get ready to take off.
airborne for $57 $27.
retreat no more.
choose to arrive.