i don't set new year's resolutions.
oh i always have goals in mind.
but that added pressure at the beginning of january has never worked for me.
so for the past two summers i have created vision boards instead.
i was facilitating a support group at the time and we decided to explore this concept together.
we spent two wednesdays in a row, two years in a row, in manifestation-devising bliss.
perusing magazines, cutting out words and images, arranging and designing.
all the while chatting about life.
internal and external struggles, hopes and dreams for the future.
these sessions were very meaningful to me.
however i have since transitioned my business to an online venture.
and i no longer lead an in-person group.
you know what though?
i am still setting aside time to make a vision board this summer.
this has become an important mid-year ritual for me.
and the 2013 edition may prove to be my most significant yet.
last month i celebrated a milestone birthday.
and i am currently experiencing huge changes in my personal life.
which makes me more eager than ever to pave the pathway.
to open myself up to the new adventures that await me.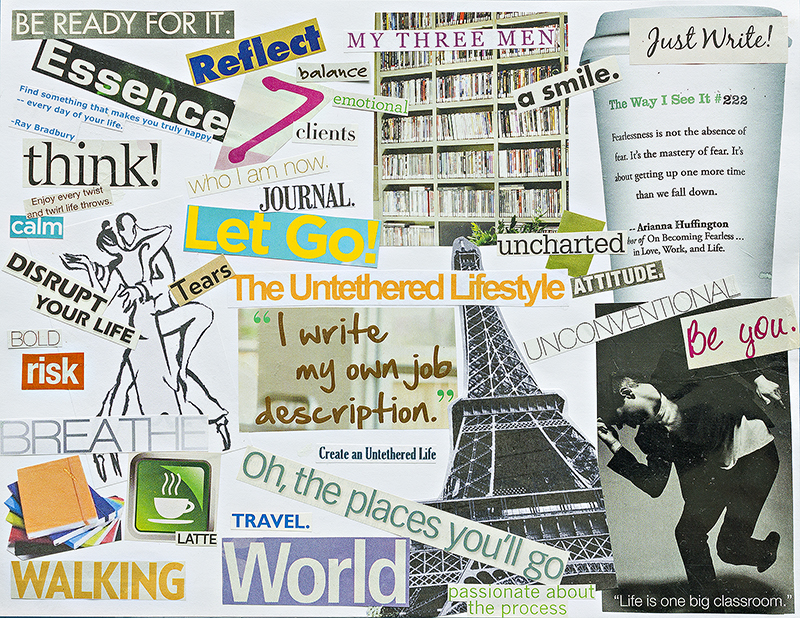 [june 2011]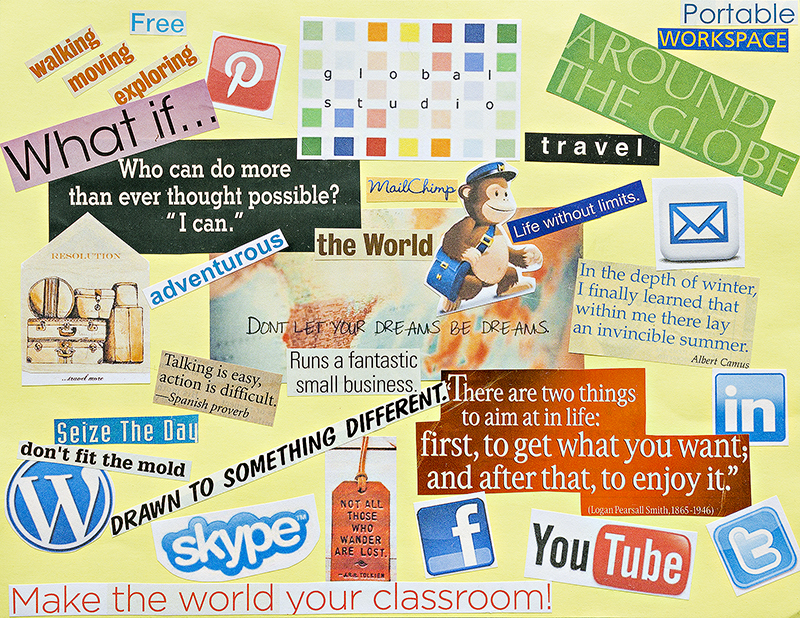 [august 2012]
i have always identified more strongly with words than with images.
and, as you can see, my vision boards reflect that fact.
(in contrast, my clients' finished products usually contained more pictures and illustrations.)
i also tend to have ideas in mind before i begin.
what i would like to see happening in my life.
so i intentionally search out ways to represent those aspirations.
the "what's-burning-in-your-head" technique.
others know it when they see it.
they approach this project with a blank slate.
the "as-it-hits-me" technique.
there is no wrong or right.
you are the composer of your own life.
you decide how to arrange it.
did everything i had envisioned transpire?
no, not all.
but i came amazingly close to attaining most of my dreams.
and i've realized something truly incredible along the way.
that i am invigorated by simply clarifying what i desire.
it helps me focus my attention on the crucial aspects of my life.
it helps me align my goals with what actually brings me joy.
it produces momentum and a feeling of excitement.
i can prevent stagnation.
i can generate possibilities.
i can attract what i want.
have you ever created a vision board?
what was the process like for you?
please share.
i am fascinated with others' stories.